If you are bored learning Japanese in class, you can learn Japanese by playing a game with me.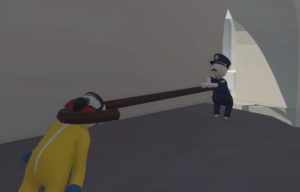 Which Game We Use??
We use the game, "Human: Flat Fall" from Steam, because it is a cooperative game and not complicated which encourage us to communicate easily. So, please create your Steam account and purchase this game, you might want to play another game though. I tried several kinds of game to research which game was better for learning Japanese. If you need my help to get the game, please do not hesitate to ask me.
"Can I Learn Japanese For Sure??
Yes. This is not just for playing game, but also for more educational. I am going to send you a Japanese phrase list which is useful to communicate with me during the game. You are supposed to use the Japanese phrases during the game as much as you could, however, we can discuss about Japanese language if necessary.
Actually, I would like you to talk about yourself in Japanese during the game at some points. So please take this unique lesson with the game more than one time per week so that your Japanese level would improve soon. You can be relaxed and comfortable during the lesson unless regular "Japanese lesson" since we play a computer game.
Enjoy Learning!!
I would like to provide some fun and educational opportunities. Learning something is boring sometimes. However, it should be very fun because the developed technology must be helpful and cause us to learn easily.
Please go to Contact to let me know about you!!
Let's learn new things with fun!!